Heliana Dundarova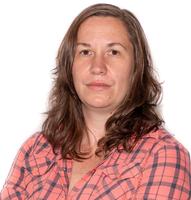 Personal information
Contacts

Institute of Biodiversity and Ecosystem Research,
Bulgarian Academy of Sciences
Base 2, Office 7,
1 Tsar Osvoboditel
1000 Sofia
Bulgaria

Phone: (+359) 893 470 395
e-mail: heliana.dundarova@iber.bas.bg

ORCID: https://orcid.org/0000-0002-3136-6457

Web of Science: http://www.webofscience.com/wos/author/record/HNI-7801-2023

Curriculum vitae

EDUCATION

PhD in Zoology 2018
Institute of Biodiversity and Ecosystem Research at the Bulgarian Academy of Sciences, Sofia, Bulgaria
PhD thesis title: "Phylogeny of Myotis mystacinus morphogroup (Chiroptera: Vespertilionidae) in the Balkan Peninsula"

MA in Zoology 2011
Charles University in Prague, Faculty of Science, Department of Zoology, Prague, The Czech Republic
Master thesis title: "Phylogeography of Rousettus aegyptiacus in the Mediterranean region"

BA in Biology 2007
Sofia University "St. Kliment Ohridski", Faculty of Biology, Sofia, Bulgaria

PROJECTS

Project leader:
Lyssavirus load in cave-dwelling bat communities in Vietnam and Bulgaria
2023 - Present
BAS IC-VT/02/2023-2025

Conservation of the Cave Dwelling Bat Communities in South Kazakhstan
2022 - Present
Rufford 36630-2

The role of the cave-dwelling bats as a vector and reservoir of the European lyssaviruses in Bulgaria
2019 - Present
№ КП-06-Н31/14 from 11.12.2019 "National Science Fund", Ministry of Education and Science, Bulgaria

Underground Habitats as a Unit for Conservation of Vulnerable Bat Communities in South-western Kyrgyzstan
2018 - 2019
Rufford 24890-1

Bat expert:
Bats and men – sharing LIFE under one roof
2018 - Present
Life, Disney Conservation Fund

Exploring and mitigating the threat of Lloviu virus re-emergence in Central European Miniopterus schreibersii populations / Hungary, Austria, Slovakia, Romania, Serbia, Croatia, Slovenia, Bulgaria, Bosnia and Herzegovina
2019 - 2020
EUROBATS

Sustainable bats conservation in the cross-border area (BatsConserv)
2018 - 2019
Interreg V-A «Greece-Bulgaria 2014 - 2020

NATURA 2000, Lot 5 (Bats) – Survey of bat habitats and determination of conservation status.
2012
Ministry of Environment and Water, Dicon group

CURRENT POSITIONS

Chief Assistant at the Institute of Biodiversity and Ecosystem Research at the Bulgarian Academy of Sciences.

Reviewer at Environment and Ecology Research (Horizon Research Publishing)

Research interests

Ecology, evolution, and conservation of Eurasian bats, with particular focus on the role of bats as hosts and vectors of RNA viruses.

Publications

Dundarova H, Ivanova-Aleksandrova N, Bednarikova S, Georgieva I, Kirov K, Miteva K, Neov B, Ostoich P, Pikula J, Zukal J, Hristov P. 2023. Phylogeographic Aspects of Bat Lyssaviruses in Europe: A Review. Pathogens, 12(9),1089. https://doi.org/10.3390/pathogens12091089

Nemcova M, Seidlova V, Zukal J, Dundarova H, Bednarikova S, Pikula J. 2023. Bat-derived cells use glucose as a cryoprotectant. Journal of Thermal Biology, 103652.
https://doi.org/10.1016/j.jtherbio.2023.103652

Orlova MV, Dundarova H, Anisimov NV, Shakula GV, Baskakova SV, Shakula FV, Shakula SV, Kuzminov IV, Boyarintsev, DI. 2023. New geographical records of spinturnicid mites (Mesostigmata: Gamasina: Spinturnicidae) in Kazakhstan. Ecologica Montenegrina,63,105–112. https://doi.org/10.37828/em.2023.63.10

Odjakova T, Todorov P, Kalaydzhiev G, Salkova D, Dundarova H, Radoslavov G, Hristov P. 2023. A study on the genetic diversity and subpopulation structure of three Bulgarian mountainous sheep breeds, based on genotyping of microsatellite markers. Small Ruminant Research, 226, 107034.
https://www.sciencedirect.com/science/article/pii/S092144882300130X

Balkanska R, Shumkova R, Atsenova A, Salkova D, Dundarova H, Radoslavov G, Hristov P. 2023. Molecular Detection and Phylogenetic Analysis of Deformed Wing Virus and Sacbrood Virus Isolated from Pollen. Veterinar Sciences,10(2):104.
https://www.mdpi.com/2306-7381/10/2/140

Dundarova, H, Orlova, M, Anisimov, N, Baskakova, S, Shakula, G, Shakula, F, Shakula, S, Amirekul, K. 2022. A new species of Spinturnix (Acari: Spinturnicidae) from the Turkestani long-eared bat Otonycteris leucophaea (Chiroptera: Vespertilionidae) in Kazakhstan. Zootaxa, 5222(5): 443-456.
https://www.mapress.com/zt/article/view/zootaxa.5222.5.3

Ivanova-Aleksandrova N, Dundarova H, Neov B, Emilova R, Georgieva I, Antova R, Kirov K, Pikula J, Zukalová K, Zukal J. 2022. Ectoparasites of Cave-Dwelling Bat Species in Bulgaria. Proc Zool Soc, https://doi.org/10.1007/s12595-022-00451-4

Nemcova M, Seidlova V, Zukal J, Dundarova H, Zukalova K and Pikula J. 2022. Performance of bat-derived macrophages at different temperatures.Front Vet Sci, 9:978756. https://doi.org/10.3389/fvets.2022.978756

Dundarova H, Altybaev K, Mamatkalykov P, Momosheva G, Nizamiev A, Sultanbek kyzy B. 2021. Underground Habitats as a Unit for Bat Conservation in Southwestern Kyrgyzstan. Acta Zoologica Bulgarica,73(4):597-605.
http://www.acta-zoologica-bulgarica.eu/2021/002569

Dundarova H, Michev B, Pandourski I. 2021. Bats over the Western Black Sea Open Water Area. Acta Zoologica Bulgarica, 73(4):543-546.
http://www.acta-zoologica-bulgarica.eu/2021/002511

Dundarova H, Pandourski I. 2021. On the presence of bats (Chiroptera) at the mouths of Kamchiya and Shkorpilovska Rivers, Bulgarian Black Sea Coast. ZooNotes. 172:1-4
http://www.zoonotes.bio.uni-plovdiv.bg/ZooNotes_2021/ZooNotes_172_2021_D...

Seidlova V, Zukal J, Brichta J, Anisimov N, Apoznański G, Bandouchova H, Bartonička T, Berková H, Botvinkin A D, Heger T, Dundarova H, Kokurewicz H, Linhart P, Orlov O L, Piacek V, Presetnik P, Shumkina A P, Tiunov M P, Treml F, Pikula J. 2020. Active surveillance for antibodies confirms circulation of lyssaviruses in Palearctic bats. 2020. BMC Veterinary Research, 16, 482. https://doi.org/10.1186/s12917-020-02702-y

Daszak P, das Neves C, Amuasi J, Hayman D, Kuiken T, Roche B, Zambrana-Torrelio C, Buss P, Dundarova H, Feferholtz Y, Foldvari G, Igbinosa E, Junglen S, Liu Q, Suzan G, Uhart M, Wannous C, Woolaston K, Mosig Reidl P, O'Brien K, Pascual U, Stoett P, Li H, Ngo H T, IPBES secretariat, Bonn, Germany. 2020. Workshop Report on Biodiversity and Pandemics of the Intergovernmental Platform on Biodiversity and Ecosystem ServicesIPBES secretariat, Bonn, Germany.
https://zenodo.org/record/4158500#.X6KWoogzY2x

Çoraman E, Dundarova H, Dietz C, Mayer F. 2020. Patterns of mtDNA introgression suggest population replacement in Palaearctic whiskered bat species. Royal Society Open Science, 7: 191805
https://royalsocietypublishing.org/doi/10.1098/rsos.191805?fbclid=IwAR0t...

Linhart P, Banďouchová H, Zukal J, Votypka J, Kokurewicz T, Dundarova H, Apoznanski G, Heger T, Kubickova A, Nemcova M, Piaček V, Sedláčková J, Seidlová V, Berkova H, Hanzal V, Pikula J. 2020. Trypanosomes in Eastern and Central European bats. 89: 69-78.
https://actavet.vfu.cz/89/1/0069/

Dundarova H, Goranov S, Ragyov D. 2019. The northernmost point of distribution of the European free-tailed bat Tadarida teniotis (Rafinesque, 1814) (Mammalia: Chiroptera) in Bulgaria. In: Bechev, D. & Georgiev, D. (Eds.). Faunistic diversity of Vrachanski Balkan Nature Park. Part 2. ZooNotes, Supplement 6, Plovdiv University Press, Plovdiv, 167-170.
http://www.zoonotes.bio.uni-plovdiv.bg/Supplements/ZooNotes_Suppl%207_Vr...

Dundarova H, Dedov I, Ljubomirov I, Zhalov A, Deltshev C. 2018. Preliminary research on the cave fauna in three caves in Lurë Mountain (Albania). 8th Symposium on karst protection-proceedings. Student Speleological and Alpinistic Club. Belgrade. ISBN:978-86-907923-3-7, 139-144.

Хабилов Т.К, Таджибаева Д.Э, Дундарова Х. Новые данные по распространению и биологии индийского подковоноса Rhinolophus lepidus Blyth, 1844 в Средней Азии. 2018. Plecotus et al., 21:57-61.
http://zmmu.msu.ru/bats/biblio/plec21/lepidus18.pdf

Martínková N, Pikula J,Zukal J,Kovacova V, Bandouchova H, Bartonička T, Alexander Botvinkin A.D,Brichta J,Dundarova H, Kokurewicz T, Irwin N.R, Linhart P, Oleg L.O, Piacek V, Škrabánek P, Tiunov M.P, Zahradníková A. 2018. Hibernation temperature-dependent Pseudogymnoascus destructans infection intensityin Palearctic bats. Virulence, 9(1):1734-1750.
https://www.tandfonline.com/doi/full/10.1080/21505594.2018.1548685

Dundarova H. 2018. Bat diversity in Lednitsata and Forgovskata dupka caves: two potentially important swarming sites in Western Rhodopes Mountains (Bulgaria). Acta zoologica Bulgarica. 70 (1): 139-142.
http://www.acta-zoologica-bulgarica.eu/downloads/acta-zoologica-bulgaric...

Dietz C, Gazaryan A, Papov G, Dundarova H, Mayer F. 2016. Myotis hajastanicus is a local vicariant of a widespread species rather than a critically endangered endemic of the Sevan lake basin (Armenia). Mammalian Biology. 81:518–522.
http://ysu.am/files/10-1509626177-.pdf

Hulva P, Marešová T, Dundarova H, Bilgin R, Benda P, Bartonička T, Horáček I. 2012. Environmental margin and island evolution in Middle Eastern populations of the Egyptian fruit bat. Molecular Ecology. 21:6104-6116.
https://pdfs.semanticscholar.org/b3ca/786f82290165afe4aa079bfaa56bf7be4c...
Affiliation
Department

Ecosystem Research, Environmental Risk Assessment and Conservation Biology

Division

Community Ecology and Conservation Biology

Research group

Conservation Biology
History
Member for

9 years 36 weeks