Yoana Georgieva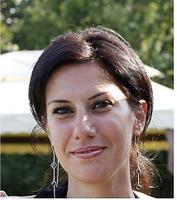 Personal information
Contacts

Address:
IBER-BAS
2 Gagarin Str.,
1113 Sofia,Bulgaria

Telephone: +359 888 199 652

E-mail: georgieva.ioana@gmail.com

Curriculum vitae

Education:
2013-ongoing
PhD Student,Marine Ecology Lab,IBER-BAS

2003-2004
University of Sofia,St.Kliment Ohridski
Masters in Ecology and Environmental Protection

1998-2002
University of Plovdiv,Paisiy Hilendarski
Bachelors in Ecology and Environmental Protection

Research Positions:
2009-2010
Specialist Ecologist,CLGE,BAS
2010-2012
Research Assistant,IBER,BAS

International Experience:
January-February 2012 Research Intrenship,Biological Department,INOGS,Trieste,Italy

Research interests

Ecosystem approach to fisheries
Ecosystem modelling
Fish stock assessment
Anthropogenic impact on coastal ecosystems,climate change

Publications

Berov, D., Deyanova, D., Georgieva, I., Gyosheva, B., Hiebaum, G., (2012). Cystoseira sp.- dominated macroalgal communities in the SW Black Sea (Burgas Bay, Bulgaria): current state and possible long-term effects of eutrophication. Comptes rendus de l'Academie bulgare des Sciences 65, 821–830.
Affiliation
Department

Aquatic Ecosystems

Division

Functional Ecology and Bioresources of Marine and Coastal Ecosystems
History
Member for

9 years 36 weeks