Antoniya Hubancheva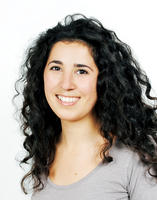 Personal information
Contacts

Curriculum vitae

Master of Science in Ecology, University of Sofia, Bulgaria, 2012;
Bachelor of Science in Ecology and Conservation Biology, University of Sofia, Bulgaria, 2010.

Research experience

University of Bristol, UK / African Bat Conservation, Malawi. Research assistant — 2014-2015
Siemers Bat Research Station in Bulgaria (SBRS), Max Plank Institute for Ornithology. Station manager — 2014
Smithsonian Tropical Research Institute (STRI), Panama. Intern — 2013
University of Bern, Switzerland. Visiting scientist — 2013
Max Plank Institute for Ornithology, Sensory Ecology Group. Graduate student and field assistant — 2008—2012
Pacific Island Ecosystems Research Center, United States Geological Survey, USA. Internship — 2012

Research interests

Sensory ecology and behaviour of bats; predator-prey interactions

Publications

Langourov, M., Georgieva, A., Hubancheva, A., & Simov, N. 2015. Two Cases of Myiases Caused by Blowflies (Diptera: Calliphoridae) on Noctule Bats (Nyctalus noctula Schreber, 1774) (Chiroptera) in Bulgaria. Acta Zoologica Bulgarica, 67(1), 143-146.
Hubancheva A. 2009. Bats (Mammalia: Chiroptera) of the Osogovska Planina Mountain – results from a survey carried in 2008. Biotechnol. & Biotechnol. Eq. 23р2009рse 120 years of Academic Education in Biology, special edition, 72-76 pp.
Affiliation
Department

Animal Diversity and Resources

Division

Biodiversity and Ecology of Invertebrates

Research group

Fauna, Taxonomy and Ecology of Invertebrates
History
Member for

4 years 31 weeks